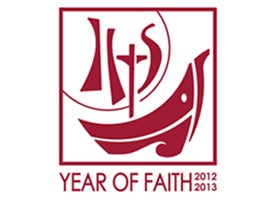 "…They called the church together and reported what God had done with them and how he had opened the door of faith…"(Acts 14:27)
Today begins the Year of Faith,  the call from Pope Benedict XVI is a "summons to an authentic and renewed conversion to the Lord, the One Saviour of the world" (Apostolic Letter Porta Fidei for the Indiction of the Year of Faith).
I imagine many things are planned in and around the varying parishes, from looking deeper into the Creeds, or perhaps looking a little closer at the documents of Vat II, as I plan to do.
Prayer is central to our relationship with our wonderful Triune God, and perhaps during this Year of Faith you have chosen to hone and increase prayer time and/or spiritual reading.
So as it is time for Vespers, below is the wonderful prayer for mission in life, from Blessed John Henry Newman to kick off.
Whatever you do, may we each be blessed during this coming year, as we are drawn closer and deeper in union with our Lord and Saviour.
God Bless+
Wifey
God has created me to do Him some definite service. He has committed some work to me which He has not committed to another. I have my mission. I may never know it in this life, but I shall be told it in the next. I am a link in a chain, a bond of connection between persons. He has not created me for naught. I shall do good; I shall do His work. I shall be an angel of peace, a preacher of truth in my own place, while not intending it if I do but keep His commandments. Therefore, I will trust Him, whatever I am, I can never be thrown away. If I am in sickness, my sickness may serve Him, in perplexity, my perplexity may serve Him. If I am in sorrow, my sorrow may serve Him. He does nothing in vain. He knows what He is about. He may take away my friends. He may throw me among strangers. He may make me feel desolate, make my spirits sink, hide my future from me. Still, He knows what He is about. +
Tags: Catholic, Christian Life, Church Life